Preseason games don't count, but they do matter. Especially for players trying to make the team, and for a team with three young quarterbacks who need reps. That was the case for the San Francisco 49ers Friday night, as they hosted the Green Bay Packers.
The good news is that all three signal-callers looked good. There was a lot to like (and a few things to dislike) for 49ers fans. I saw my fair share of good and bad. Here are my 21 quick observations from the 49ers' preseason win over the Packers.
Kemoko Turay was everywhere and was disrupting things the entire time he was in the game. That's a good sign.
Tarvarius Moore is so talented. But he makes too many mistakes. The way he got beat in the first quarter for the touchdown was bad. Talanoa Hufanga will be the starting strong safety.
Speaking of Hufanga—he almost killed a Green Bay running back Friday night. big hit.
Justin Skule looked rusty.
Trey Lance looked sharp, though. He used his legs well and even slide, instead of trying to run over a defender. That's progress. And that 76-yard touchdown pass to Danny Gray was pretty.
By the way, Gray is really fast.
The 49ers kickoff team gave up a long kick return. Let's hope that was a fluke.
It's great to see Kerry Hyder, Jr. and Javon Kinlaw back on the field for the 49ers. They both should make a big impact this season.
Marcelino McCrary-Ball looks fast and has great moves. After his interception, he had a 56-yard return. And he's an undrafted rookie. He's a keeper!
Nate Sudfeld's first pass was a 39-yard touchdown pass to Ray-Ray McCloud. McCloud was wide open. Nice throw. Even better route.
McCloud will be dangerous with the ball in his hands—for the 49ers, and against the 49ers. He'll make some big plays, but he'll also put the ball on the ground. He fumbled the ball away in his first half with his new team.
Rookie corner Samuel Womack III makes me think Darqueze Dennard won't be a starter very long. Womack had two picks in his first NFL game and made a number of other plays, too. He was great.
Ambry Thomas, however, did not look good to me.
Drake Jackson, the 49ers' first draft selection in April, made some plays before leaving with a shoulder stinger.
JaMycal Hasty looked good with the ball in his hands. Except for one mistake on a kickoff return, in which he touched the ball, then stepped out of bounds. The ball might have gone out of bounds on its own, but Hasty didn't have much time to decide. He should learn from that.
Ty Davis-Price ran the ball well, too. He had one run, that gained 10 yards, that if he does n't slip, he could've gone for a lot more. Davis-Price runs with authority and carries piles. But he can't catch.
Sudfeld looked good. He had some nice touch passes and showed some decent mobility.
Let's hope Keaton Sutherland never has to play. I'm sure Kiefer Sutherland would agree, as well. (Yea, I know. That was weak.)
Spencer Burford was throwing people around. I like him.
Brock Purdy looked solid. The touchdown pass, as well as the two-point conversion, were really nice passes. Purdy may have to enter concussion protocol, though, because of the hit he took from his position coach, Brian Griese. Purdy said Griese's aggressive celebration left the rookie with a cut lip. Tough sport.
This rookie class, including some of the undrafted free agents, looks like a really strong class. That's very encouraging.
Next week, the 49ers travel to Minnesota to spend some time practicing with the Vikings. Then the 49ers will play against Minnesota on Saturday. This will likely be the game that features few, if any, starters.
The opinions within this article are those of the writer and, while just as important, are not necessarily those of the site as a whole.
Nobody's perfect. Did you find a mistake in this article?
Report it.
Facebook Comments
More San Francisco 49ers News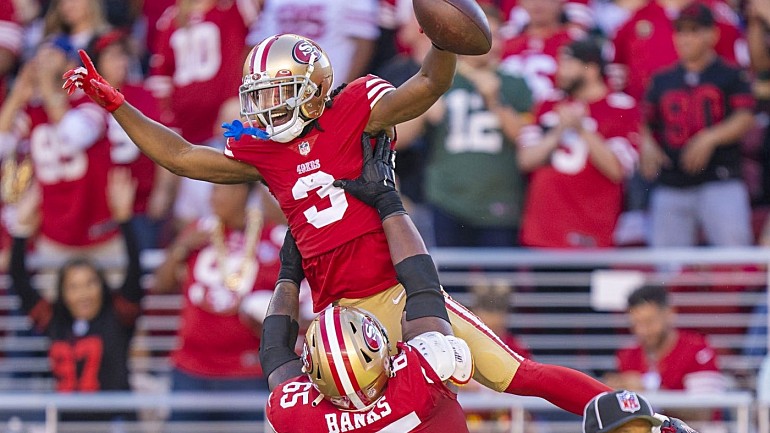 Recap: 49ers newcomers shine in 28-21 preseason win over Packers
The spotlight was on quarterback Trey Lance heading into Friday night's preseason opener for the San Francisco 49ers, but it was a slew of newcomers that stole the show in a 28-21 win over the Green Bay Packers. Not that Lance did n't deliver in his limited opportunities. Lance played on two possessions in the game and led the 49ers to 10 first quarter points, completing 4-of-5 passes for 92 yards while also rushing once for seven yards. But with a number of starters on the sidelines for the duration of the game, several rookies stood out in the win for the 49ers, including wide receiver Danny Gray, who had two catches for 99 yards and one touchdown, and cornerback Samuel Womack, who had two interceptions, while free agent addition Ray-Ray McCloud chipped in with four catches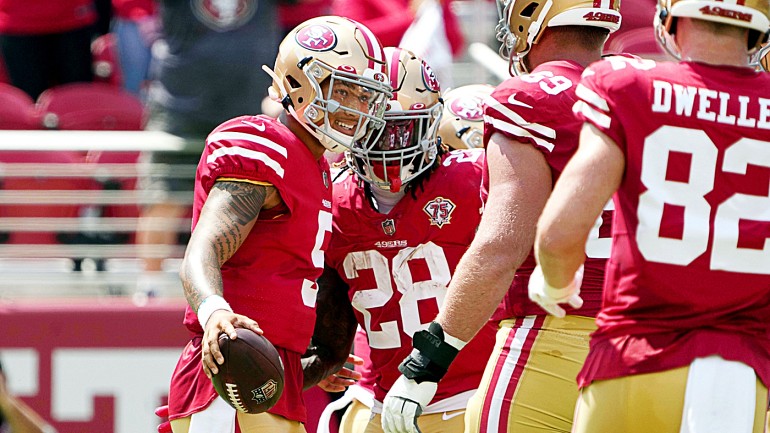 49ers-Packers: 2022 training camp schedule leading to preseason opener
The San Francisco 49ers are set to kick off their third week of training camp at the SAP Performance Facility in Santa Clara, California. The team announced the practice and media schedule for the week, which will be capped off by the preseason opener against the Green Bay Packers at Levi's Stadium. Head coach Kyle Shanahan, defensive coordinator DeMeco Ryans, and various players are scheduled to speak with the media. The 49ers will make the press conferences available at 49ers.com, on the team's official mobile app, and YouTube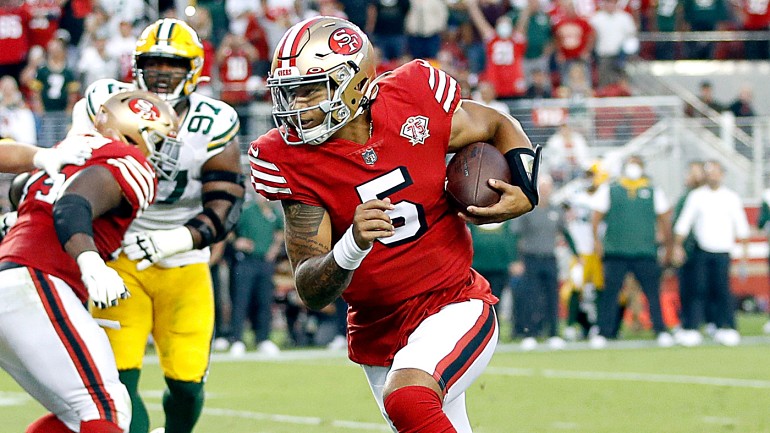 49ers-Packers: How to watch, stream, and listen to the Week 1 preseason matchup
The 49ers open the 2022 preseason with a home game at Levi's Stadium against the Green Bay Packers. It marks the sixth time the two clubs have met in the preseason and the first meeting since 2016. The 49ers lead the all-time preseason series 3-2. San Francisco returns multiple key players from last season's team that reached the NFC Championship, including All-Pros WR Deebo Samuel and T Trent Williams, along with Pro Bowlers DL Nick Bosa, FB Kyle Juszczyk, and TE George Kittle. DL Arik Armstead and LB Fred Warner look to lead a defense that added CB Charvarius Ward, DL Kemoko Turay, DL Kerry Hyder Jr., LB Oren Burks, and S George Odum, as the team also brought in WR Ray-Ray McCloud III on offense, among others. Through the 2022 NFL Draft, the Niners brought in DL Drake
What Kyle Shanahan said as 49ers prepare for Packers preseason matchup
San Francisco 49ers head coach Kyle Shanahan spoke with reporters before Tuesday's practice. The team will cap the week off with its first preseason game, a matchup against the Green Bay Packers at Levi's Stadium. Here is everything Shanahan had to say. Transcript provided by the San Francisco 49ers Communications staff. Have you set the schedule for what you're going to do in the preseason game? Is the first team offense going to get any snaps? "Yeah, some of them, we have a pretty good idea. I definitely want to see how these practices go these first two days. I'd like to get guys to play in this game. Mainly because I don't want them to play in the second game, going to scrimmage a team, I'm more into the scrimmage than
.